It may have been a record for the coldest Thanksgiving: 17 this morning and might go down lower tonight.
We did three loads of laundry.
I made 2 loaves of pumpkin bread.  Peter picked up the one for James this afternoon, to save us the trip.
We put on the dog a bit for our vegan feast: tablecloth, candles. There is too much food for two people, so leftovers of everything.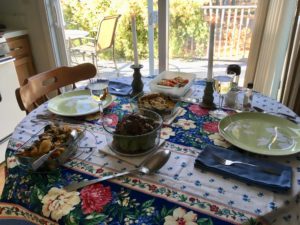 We finally shredded the giant head of cabbage and froze three bags for stir fry or other uses.
Ron put up the hoses and holders.
I deep sixed the poor geranium. Paid bills.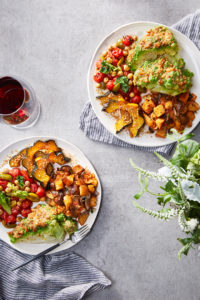 Romanesco Cauliflower Roast with Miso Bagna Cauda
A whole head of Romanesco is roasted for a creamy interior with those coveted crispy bits on the outside. Chef Fox says the Miso Bagna Cauda, the glaze and sauce for this stunning main dish, was one of his first "aha! moments" in creating never-before-tasted vegan flavors. Bagna cauda, a warm, garlicky dipping sauce from Italy, is traditionally made with anchovy — his gets its umami profile from miso, a traditional Japanese condiment made with fermented soybeans.
Cremini Mushroom Stuffing with Kimchi
Meaty cremini mushrooms are braised in white wine vinegar and rosemary and tossed with hearty cubes of French bread, shallot confit and fresh sage. The real surprise comes from the addition of spicy, sour and crunchy kimchi.
Charred Escarole with Tomatoes and Chickpeas
Creamy chickpeas and cherry tomatoes are simmered together, studded with sliced Castelvetrano olives and served over smoky escarole.
Roasted Acorn Squash with Maple and Hazelnut Dukkah
Based on a signature dish from his restaurant, Chef Fox gives this fall staple a sweet, smoky, nutty twist. The squash is first roasted with a maple and sherry vinegar glaze and finished with dukkah, an Egyptian nut and spice mix made with toasted hazelnuts, cumin, coriander, sesame seeds and flaky Maldon salt.
Frosted Sweet Potato Blondie with Spiced Cashews
Save room for a brownie-like dessert made with roasted sweet potato, golden raisins, cinnamon and just a little curry powder, then covered in a creamy vanilla-scented frosting.