We picked up some great produce, bread and other items at the FFP, including a giant head of cabbage.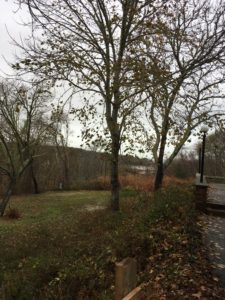 Afterwards, we wandered around the Sippewissett campgrounds.  They've sold their property and are liquidating furniture, linens, housewares, tools, small and large appliances and pavers.  We didn't find anything we needed or couldn't live without.  Everyone there was extremely helpful and friendly.  Pretty spot, hope it doesn't get turned into something grotesque.
We had cheese sandwiches and tomato soup for lunch.  I cooked down some almost gone-by tomatoes for sauce.
Not a terribly productive day.  It was cold and raw so not much incentive to do outdoor work.
Ron made a big bowl of coleslaw for supper.