Had breakfast with Cindy and Cathy at Betsy's Diner.  Julia's last first year class is today; two more years to go for her MSW!
Did the Falmouth Green standout.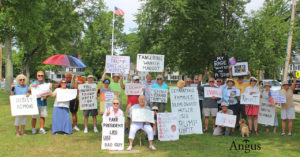 Found a nice lampshade for the den at the Service Center thrift shop.
Ron checked out a pile of closet shelving parts given to us by a well-meaning friend and decided that it was not worth trying to figure out how to put it together, so it's going to the transfer station.
Found instructions to put together an IKEA computer table that's been downstairs gathering dust.
We made a special trip to Edgewater to give Robert his birthday gift.  He liked the card!